Yukon Discovery and Sled Dog -6.5 HR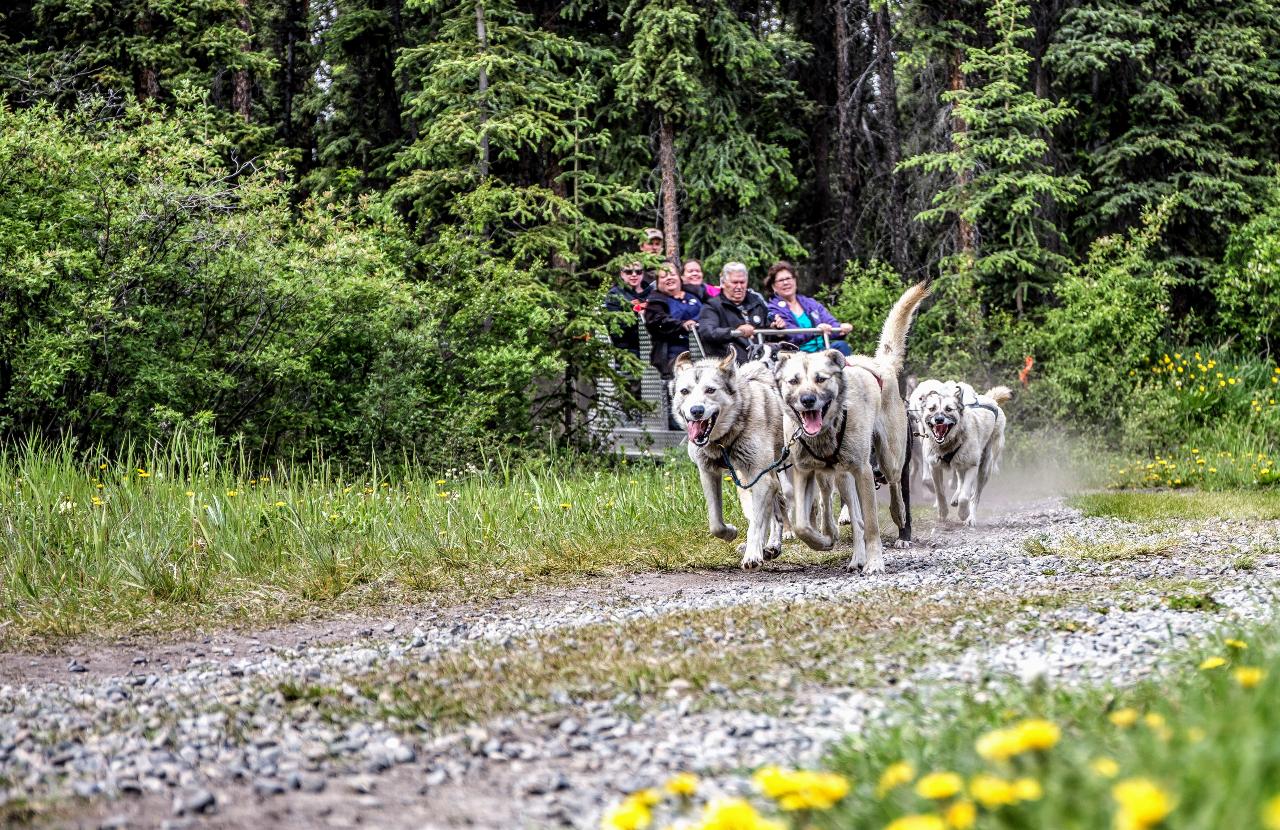 Varaktighet: 6 Timmar (cirka)
Produktkod: PML4LN
The tour begins by climbing the mountainous Klondike Highway, driving by mini-bus north to the US/Canadian border, paralleling the 1898 Gold Rush Trail to the White Pass summit at 3292 feet. Along the way, view coastal rainforest, magnificent waterfalls, glaciers, and icy blue lakes. Enjoy scenic views at Moore Creek bridge, Welcome to Alaska sign, Summit Lake and Tormented Valley.
Once in Canada, we journey through spectacular scenery of dramatic lakes encircled by mile-high mountains and the Northern Boreal forest wilderness. Included are Tutshi and Tagish Lakes and Bove Island. Pose at the Yukon Border sign for a great photo-op! In Carcross, stand on the shores of historic Lake Bennett, see the "World's Smallest Desert" and marvel at the gorgeous green Emerald Lake. We watch for wildlife (including Bears, Moose, Caribou, Dall Sheep and Mountain Goats) all along our route. We stop at Caribou Crossing where you'll see a premier educational wildlife gallery, featuring over 100 Yukon and Ice Age taxidermy animals . Lunch is delicious barbecue chicken with sides (vegetarian/vegan/gluten free option of lentil curry available).
Now for the day's highlight! For the dogsled portion of the tour at Caribou Crossing you will ride in a unique, specially designed dry land 6 passenger training cart. Listen to the excitement of the dogs as the team is chosen and watch as they take their place on the line. You will experience a thrilling glimpse into team dynamics, social order and the dog's passion for running. Your tour will take you down a 1 mile forested course, specially designed to allow the canine athletes to train in the off season. While on the course you will see the teams respond to mushing commands, and have the opportunity to stop with the team and watch them romp and play in their watering pools. (Dogsledding Tour time is approx. 15 min and includes: Team hookup, safety briefing and ride. Time on the trail may vary slightly based on temperatures, trail conditions, and specific team you are riding with.
Caribou Crossing Kennels reserves the right to cancel Dog cart ride due to extreme temperature conditions. (Refunds will be given for the
ride portion)
. You will also have time to meet some friendly sled dogs and enjoy the playful puppies. Have your camera ready for cute puppy photos.
The Yukon Discovery and Yukon Discovery & Sled Dog tour ride the same bus to Caribou Crossing. If part of your group book the Dogsled option separately, you will all ride the same bus.
Child Rate is 2-12 (under 2 not recommended).

PASSPORTS REQUIRED, 6.5 HOURS DURATION, ROUNDTRIP DISTANCE 140 MILES
777DISCOUNT PROMO CODE